Day 22: When is it going to be a buyer's market again?
Posted by Jon Tripp on Friday, October 29, 2021 at 11:35 PM
By Jon Tripp / October 29, 2021
Comment
"When is it going to be a buyer's market again?" This is the question I'll address today, Day 22 of a 30-day series looking at the top questions in real estate.
Let me say that if there's one of my 30 day series videos I would encourage you to watch in full, this is the one.
As I record this on the Friday before Halloween 2021, there is more home inventory available to buyers than there was in the Spring time, according to chief economist at Realtor.com.
I've had a ton of buyers who were frustrated by the aggression in the Spring market and decided to sit it out. This news should be encouraging to them as there has been some normalizing of the market allowing for a bit more rational offers, including home inspections and other contingencies.
Prices remain up but the end of year trajectory has slowed. You might hear some economist say price increases or appreciation is declining. But don't falsely translate that into "prices are falling." They're just not increasing right now as aggressively as they have through the first 2/3rds of the year.
So when is it going to be a buyer's market again? When one of two things happens: the demand goes away or inventory catches up. The good news for sellers is that's not likely to happen for another couple years. The bad news for buyers is that's not likely to happen for another couple years. The exciting news for landlords is that's not likely to happen…you get the point.
There's currently a 6 million housing unit shortage in the country. The demand for housing isn't suddenly going to dissipate? People have to live somewhere. Sure some of it may be discretionary and maybe they can stay in mom's basement another year or so. But not that many can decide that.
Nor can builders construct that many homes or sellers sell enough vacant homes to quickly address the demand. This is a multi-year challenge.
So buyers, I encourage you to think of the buying process a bit differently than you would for buying stocks. A home is something you will live in. You're going to pay someone's mortgage each month. Yes, home prices are going up…but rather than sit on the sideline and wait for prices to magically go down, get in a home and wait for the long-term benefits home ownership offers. Long term growth and eventual mortgage paydown. Pay yourself to live in a home.
Two days ago I highlighted how the average homeowner across the country has seen $51,500 in home appreciation in just the past year.The below graphic demonstrates how the price of waiting to buy can be costly. Essentially between increased interest rate and cost of a home in the slightest bit will cost someone buying $500k over $43k over the life of a 30 year mortgage.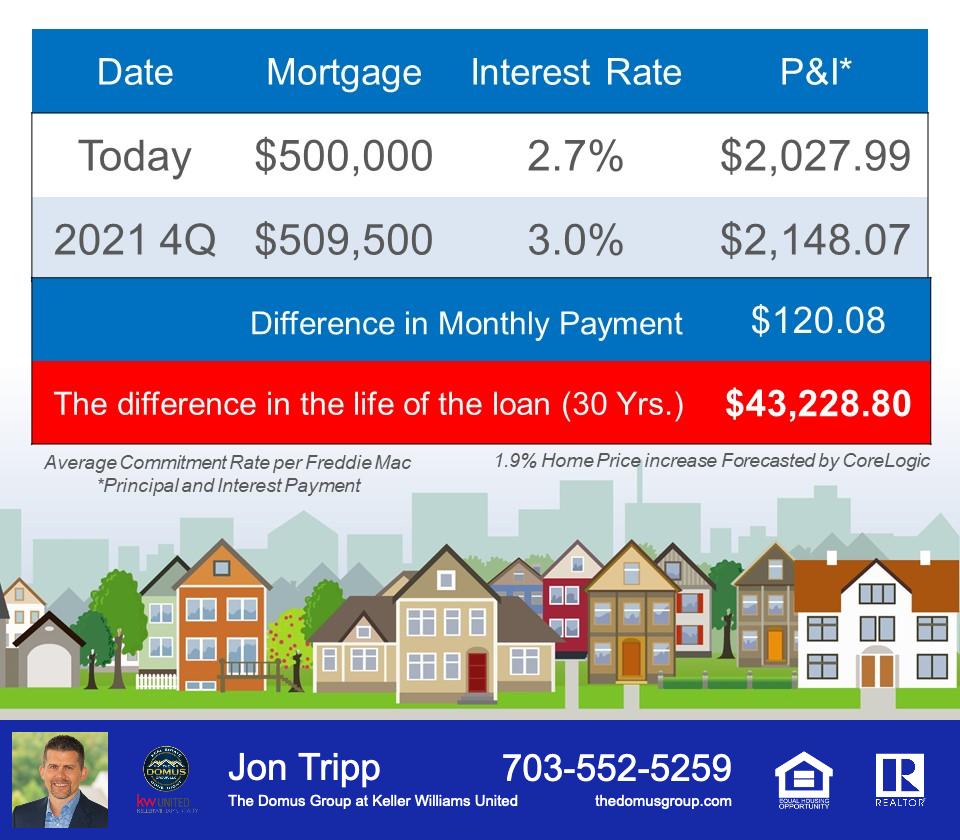 Lest I sound like a pushy sales person, I'm not pushing you to buy but to think and crunch the numbers. I am willing to have a conversation with you to make sure you understand what's at play. If you're making a decision informed by the facts, that's ultimately what I care about.
Tomorrow I'm going to address the question "Should I sell my home or just improve it?"
When it comes to real estate, it matters who you work with. I have said that now to you 22 days in a row. In two days I'm going to address exactly what I mean by that. If I can answer any questions you have or assist you with buying or selling a home or investment property, reach out to me directly at 703-552-5259.
If this information is helpful, give me a thumbs up and share with a friend. To get my updates, take a moment to follow me on all the social channels @thedomusgroup. My name is Jon Tripp and I'm a Realtor in Northern Virginia. As always, thanks for joining me.